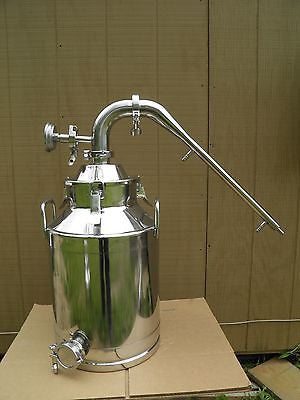 8 Gallon Still with 2" Stainless Whiskey Column, Moonshine Still, Whiskey Still
Direct Fire 8 Gallon Traditional Moonshine Still with 2" Whiskey Head.
This Moonshine Still is fully functional. It can be used to produce Corn Whiskey, Rum, Sugar Head Whiskey, White Dog, or even your Granddad's old recipe that you've been itching to try. This 8 gallon Moonshine Still has a 2" Traditional Ozark Mountain Whiskey Head. The head is packed with enough structured copper packing to remove the sulfides from the alcohol vapor just like a copper still does. You get the best of both worlds with this still. You get the durability of stainless and the wonderful flavor improving qualities of copper. This Moonshine Still can be fired with a
propane burner
or electric heating elements. If you would like to fire it with the electric heating elements please see our
5,500 watt manual controllers
.
Comes with:
Professional Grade 250° Thermometer with 3" Face

Carrying Handles for Portability

Fill Spout with Tri Clamp Plate

Structured Copper Packing for the Column

Tri Clamp Heating Element Ports with Face Plates

Traditional Whiskey Head with Liebig Condenser
This item comes with a 1 year warranty which covers manufacturing defects and leaks.
Disclaimer:
These products may not be legal to operate in some areas. Affordable Distillery Equipment, LLC strongly discourages any unlawful use of these products, and is not responsible for any damage or injury caused by the use or unlawful use of these products. Any person or entity that uses information or equipment, provided by Affordable Distillery Equipment, LLC, does so entirely at their own risk and accepts all liability concerning the use of the aforementioned equipment and information.
This still also comes with the book "Moonshine" by Matthew B. Rowley. Chapters include: Equipment; Ingredients; The Process; Fundamentals of Distilling; Operating a Pot Still; Whiskeys: Grain-Based Recipes; Now That You've Made It: Moonshine Based Recipes."
Quality
Great workmanship. Everything is top shelf. Works great.
Very well made
This equipment works great. . These are very safe to use. Very well made! If your thinking of going bigger do it. I may get a bigger size soon.
---
We Also Recommend