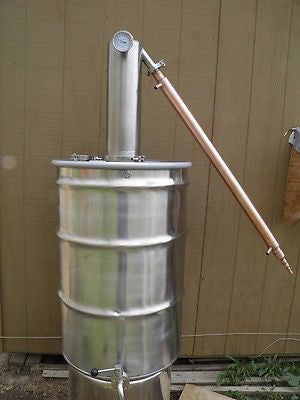 55 Gallon Moonshine Still, Whiskey Still, Ethanol, Heavy Duty Stainless Steel
This 55 gallon still was built from a used maple syrup barrel. This still has a stainless steel head with a copper Liebig condenser.
All of our copper heads and columns are TIG welded using food grade DHP copper welding rod. This means that the welds are as strong, or stronger, than the surrounding metal. This DHP copper rod melts at around 1,700° F, while the solder that our competitors use melts at around 400°F. Solder joints are not nearly as strong as our welds, plus solder is messy, runs and gets all over the metal, while our welds are tight, clean and pretty. 
These 55 gallon stills are made from used stainless steel food grade barrels and may have some small dings and dents. 
This 55 gallon still is durable and is made with the highest quality. If you are looking for a pot still that is easy to operate, this 55 gallon still is for you.
Built from a heavy gauge SS304 food grade stainless steel barrel

Polished inside and out.

Commercial grade thermometer with a 3" face

1" Drain valve

Removable ring clamp lid

High temp alcohol resistant ring clamp gasket

2" Tri clamp filler neck on lid

This still comes with complete operating instructions.

 
The 24 gauge copper stills that you see elsewhere on the internet are so thin that you can take your hands and crush them like a huge beer can. If you flip a 24 gauge copper still with your thumb and fore finger it will make a dent. If you punch this stainless barrel with your fist, you might break your fist but there won't be a dent.
This item comes with a 1 year warranty which covers manufacturing defects and leaks.
Hand it Down to Future Generations!
DETERMINING TRI CLAMP SIZE
Tri Clamp sizes are determined by the outer diameter of the pipe or tubing, not the outer diameter of the flange or Tri Clamp itself. The flange of a Tri Clamp fitting typically has about a ½" inch greater diameter than the outside diameter of the pipe. This can become especially confusing when the Tri Clamp fitting has no pipe attached to it, as is the case with adapters, For instance, a 1.5" Tri Clamp to 1/2" hose barb adapter is not 1.5" inches in any dimension, but the Tri Clamp end will fit any other 1.5" Tri Clamp fitting. 

If you have any doubts about what size Tri Clamp fittings your project needs, simply measure the outside diameter of the flange (dimension "B" below) and consult the chart below, or feel free to contact us .
 

Pipe Outer Diameter
A

Flange Outer Diameter
B

Pipe Inner Diameter
C

1"

1.98"

.87"

1.5"

1.98"

1.37"

2"

2.52"

1.87"

2.5"

3.05"

2.37"

3"

3.58"

2.87"

4"

4.68"

3.83"

6"

6.57"

5.78"

8"

8.57"

7.78"

10"

10.57"

9.69"

12"

12.57"

11.81"
These products may not be legal to operate in some areas. Affordable Distillery Equipment, LLC strongly discourages any unlawful use of these products and is not responsible for any damage or injury caused by the misuse or unlawful use of these products. Any person or entity that uses information or equipment provided by Affordable Distillery Equipment, LLC does so entirely at their own risk and accepts all liability concerning the use of the aforementioned equipment and information. 
---
We Also Recommend