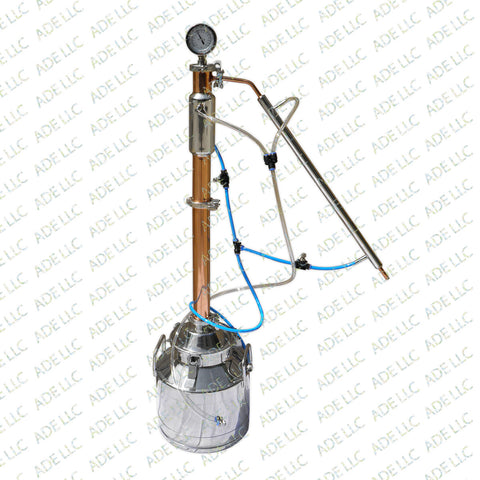 5 Gallon Still with 2" Copper & Stainless Reflux Column, w/Cooling Kit
This 5 gallon still is made with high grade, polished stainless steel. This still has a 2" Copper and Stainless Reflux Column. The boiler stands at 17 1/2" tall and 12 5/8" in diameter. The bottom of the boiler is flat and recessed. This still comes with the cooling/plumbing kit for your water input/output for the condenser. Use the blue hose for your cold water line, and the clear hose for your hot water line. These cooling kits will work for hose barb connections that are 5/8" ID. 
12 feet of 3/8" Tubing (6 feet of clear, 6 feet of blue tubing)
6 inches of 1/2" Clear Tubing
6 inches of 5/8" Clear Tubing
(1) 3/8" Push to Connect Flow Tee
(2) 3/8" Push to Connect Male Straight Pipe Fittings
•Top quality construction with beautifully rounded curves
•Built from heavy gauge 304 food grade stainless steel
•Polished to a mirror finish inside and out
•Commercial Grade Thermometer with a 3" face
•2" Copper Whiskey Column
The 24 gauge copper stills that you see elsewhere on the internet are so thin that you can take your hands and crush them like a huge beer can. If you flip a 24 gauge copper still with your thumb and fore finger it will make a dent. If you punch this stainless milk can boiler with your fist, you might break your fist but there won't be a dent.
This item comes with a 1 year warranty which covers manufacturing defects and leaks.
Disclaimer:
These products may not be legal to operate in some areas. Affordable Distillery Equipment, LLC strongly discourages any unlawful use of these products, and is not responsible for any damage or injury caused by the use or unlawful use of these products. Any person or entity that uses information or equipment provided by Affordable Distillery Equipment, LLC does so entirely at their own risk and accepts all liability concerning the use of the aforementioned equipment and information. 
Hand it Down to Future Generations!
---
We Also Recommend