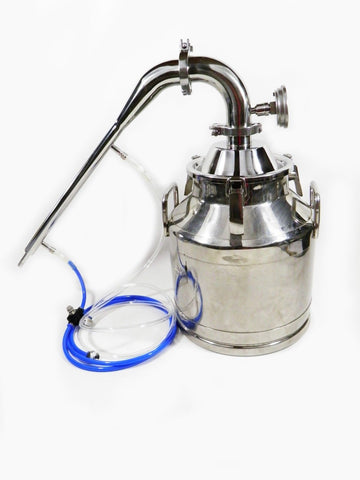 5 Gallon Moonshine Still with 2" Stainless Whiskey Column and Cooling Kit
Direct Fire 5 Gallon Traditional Moonshine Still with 2" Whiskey Column and Cooling/Plumbing Kit.
This moonshine still is fully functional. It can be used to produce Corn Whiskey, Rum, Sugar Head Whiskey, White Dog, or even your Granddad's old recipe that you've been itching to try. This 5 Gallon Moonshine Still has a 2" traditional Ozark Mountain Whiskey Head. The column is packed with enough structured copper packing to remove the sulfides from the alcohol vapor just like a copper still does. You get the durability of stainless and the wonderful flavor improving qualities of copper. This moonshine still can be fired with a propane burner or electric heating elements. To fire the still with an electric heating element we would need to add a 2" heating element port ($35.00) and a tri clamp to heating element adapter ($22.00). The boiler stands at 17 1/2" tall and 12 5/8" in diameter. This still also comes with the cooling/plumbing kit. 
Use the blue hose for your cold water line, and the clear hose for your hot water line. These cooling kits will work for hose barb connections that are 1/2" ID
Comes with:
Carrying handles

Top quality construction with beautifully rounded curves.

Built from heavy gauge 304 food grade stainless steel.

Polished to a mirror finish inside and out.

2" Column connection

Built in shotgun condenser

12 feet of 3/8" Tubing (6 feet of clear, 6 feet of blue tubing)

6 inches of 1/2" Clear Tubing

(1) 3/8" Push to Connect Flow Tee

(2) 3/8" Male Straight Pipe Fittings
This item comes with a 1 year warranty which covers manufacturing defects and leaks!
Disclaimer:
These products may not be legal to operate in some area. Affordable Distillery Equipment, LLC strongly discourages any unlawful use of these products and is not responsible for any damage or injury caused by the misuse or unlawful use of these products. Any person or entity that uses information or equipment provided by Affordable Distillery Equipment, LLC does so entirely at their own risk and accepts all liability concerning the use of the aforementioned equipment and information. At this time, Affordable Distillery Equipment, LLC is not required to report any customer information to any federal or state agency.
Form and function!
The still itself is beautiful to look at. Reader beware that I am JUST getting into the art of distilling, and previously was using a "prison yard" DIY still with an old pressure cooker and bucket condenser that lost more than half of the product to vapor loss. So anything is a major step up for me. But this still has worked splendidly after two runs. I haven't done specific measurements to try and record efficiency, but I can say that the shotgun condenser works great, and the supplied hoses in this particular package saved me a trip to the hardware store. The male pipe fitting on the ends of each hose can go straight into a kitchen sink, although I did have to buy a female adapter to hook it up to my garden hose.
The kettle heats up quite nicely over a propane flame. Since the bottom of the kettle is concave, it's not practical to heat it on a smooth flat surface. I eventually will get a single burner unit with high BTU output, but my little Coleman camping stove heated up the distillate within about 45 minutes (probably less).
At this point, I'm an amateur and a hobbyist, but the 5 gallon kettle is perfect for me right now. I highly recommend the product!
Excellent
Craftsmanship is second to none
---
We Also Recommend