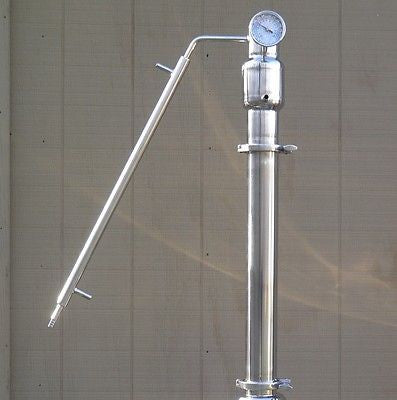 3" Stainless Steel Reflux Column for Still, Moonshine Still, Vodka E-85 Ethanol
This 3" Stainless Reflux Column was built from 304 food grade stainless steel. 
Designed and built using solid sanitary TIG welded construction, which is much stronger than soldering or brazing. Includes structured copper packing for the column. This column gives you the best of both worlds. You get the strength and durability of stainless and the flavor improving qualities of  copper.
This is for the head/column only, the boiler is not included.
3" Tri Clamp with 3" Silicone Gasket for connecting the column to a still.

Commercial 3" face thermometer.

3" Tri Clamp dephlegmator connection with 3" Tri Clamp and 3" Silicone Gasket.

Built in stainless Liebig condenser.

1/2" Hose barb connections on the condenser and dephlegmator (pre-condenser) for cooling water.

Enough structured Copper Packing to fill the column.

Dephlegmator (pre-condenser) for increasing and controlling proof.

The column is 21" tall and the condenser is 30" long.
This item comes with a 1 year warranty which covers manufacturing defects and leaks.
This Stainless Reflux Column is built to last a lifetime! 
Pass it down to future generations!
DETERMINING TRI CLAMP SIZE
Tri Clamp sizes are determined by the outer diameter of the pipe or tubing, not the outer diameter of the flange or Tri Clamp itself. The flange of a Tri Clamp fitting typically has about a ½" inch greater diameter than the outside diameter of the pipe. This can become especially confusing when the Tri Clamp fitting has no pipe attached to it, as is the case with adapters, For instance, a 1.5" Tri Clamp to 1/2" hose barb adapter is not 1.5" inches in any dimension, but the Tri Clamp end will fit any other 1.5" Tri Clamp fitting. 

If you have any doubts about what size Tri Clamp fittings your project needs, simply measure the outside diameter of the flange (dimension "B" below) and consult the chart below, or feel free to contact us .
 

Pipe Outer Diameter
A

Flange Outer Diameter
B

Pipe Inner Diameter
C

1"

1.98"

.87"

1.5"

1.98"

1.37"

2"

2.52"

1.87"

2.5"

3.05"

2.37"

3"

3.58"

2.87"

4"

4.68"

3.83"

6"

6.57"

5.78"

8"

8.57"

7.78"

10"

10.57"

9.69"

12"

12.57"

11.81"
These products may not be legal to operate in some areas. Affordable Distillery Equipment, LLC strongly discourages any unlawful use of these products and is not responsible for any damage or injury caused by the misuse or unlawful use of these products. Any person or entity that uses information or equipment provided by Affordable Distillery Equipment, LLC does so entirely at their own risk and accepts all liability concerning the use of the aforementioned equipment and information.
Longer condenser
I like the column. I've had 1 run with it and that was a 13 gallon boiler. I was heating with propane on a burner. Was wanting to bounce the 3 inch head from the 13 gallon and my new 26 gallon in the way. However, with a larger 26 gallon boiler on the way, I can see I'll have some issues. If I switch to heat control instead of a burner I'd be in better shape cause here in the south it's a lil warm in July.
Nice reflux column .
Well made column, had some dings and scuffs when it arrived but like most ladies looks pretty good from a distance and works as advertised. Very happy with it.
---
We Also Recommend