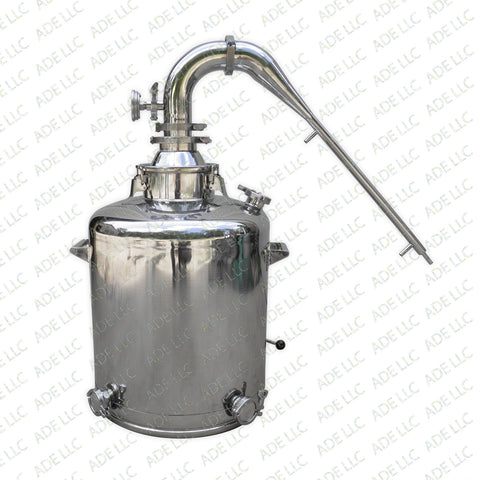 26 Gallon Still with 3" Stainless Whiskey Column
This 26 gallon still with 3" stainless whiskey column has it all! (2) 2" element ports, for heating element adapters tri clamp gasket and cover plate. This boiler can also be fired with a propane burner or heated with electric heating system. The bottom of the boiler is flat and recessed. 
This still also comes with: 
1.5" drain valve with down spout 
Carrying handles 
2" filler port with tri clamp, gasket and cap 
4" column connection 
Top quality construction, with beautifully rounded curves 
Built from heavy gauge 304 food grade Stainless Steel 
Polished to a mirror finish inside and out 
Base Diameter: 19 3/4" 
Commercial grade thermometer with a 3" face 
1.5" Tri Clamp and 1.5" Silicone Gasket for connecting the column to a still 
3" Tri Clamp stainless ferrule connection welded to the base of the column for connecting to a still 
3" Tri Clamp with 3" Silicone Gasket for connecting the column to a still 
3" Tri Clamp with 3" Silicone Gasket for connecting the column to the condenser 
Built in stainless Liebig condenser 
1/2" hose barb connections on the condenser for cooling water 
Super heavy duty construction using 308 stainless welding rod and heavy gauge 304 stainless steel 
1 Roll of structured Copper Packing 
DETERMINING TRI CLAMP SIZE
Tri Clamp sizes are determined by the outer diameter of the pipe or tubing, not the outer diameter of the flange or Tri Clamp itself. The flange of a Tri Clamp fitting typically has about a ½" inch greater diameter than the outside diameter of the pipe. This can become especially confusing when the Tri Clamp fitting has no pipe attached to it, as is the case with adapters, For instance, a 1.5" Tri Clamp to 1/2" hose barb adapter is not 1.5" inches in any dimension, but the Tri Clamp end will fit any other 1.5" Tri Clamp fitting. 

If you have any doubts about what size Tri Clamp fittings your project needs, simply measure the outside diameter of the flange (dimension "B" below) and consult the chart below, or feel free to contact us .
 

Pipe Outer Diameter
A

Flange Outer Diameter
B

Pipe Inner Diameter
C

1"

1.98"

.87"

1.5"

1.98"

1.37"

2"

2.52"

1.87"

2.5"

3.05"

2.37"

3"

3.58"

2.87"

4"

4.68"

3.83"

6"

6.57"

5.78"

8"

8.57"

7.78"

10"

10.57"

9.69"

12"

12.57"

11.81"
Great product, arrived dented
Still boiler came packaged in a wooden crate over cardboard so I expect this likely happened in the warehouse prior to shipping. Overall I am satisfied with all materials I received. Getting through via phone to place an order took a few tries but we got what we wanted in the end. Thanks
Top Notch!
I bought the 26 gallon pot with the gooseneck column. The quality of the still if super. I have used it now for about 6 months. It has a tendency to run hot and takes a lot of water or ice to keep it under 190. It works great as a stripping still but you will lose some flavor with it running hot. Plan to babysit this thing for 6-10 hours if you want to run it around 175 degrees.
---
We Also Recommend