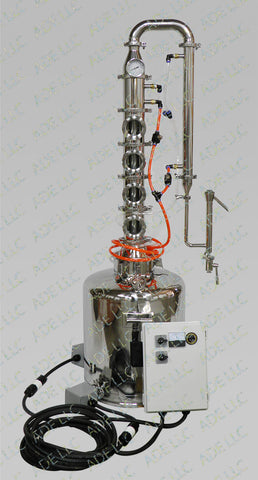 26 Gallon Moonshine, Still 4" Stainless Bubble Plate Column w/ Cooling and Controller
This Still has a beautiful 4" Diameter Stainless Bubble Plate Column with four 3" diameter sight glasses, Gatling Gun (Tube & Shell) Dephlagmator on top of the Column and a 2" Gatling Gun (Tube & Shell)  Condenser on the right side of the column. The column can be ran in Pot Still Mode to make Whiskey and Moonshine or it can be ran in reflux mode to make high proof Vodka or E-85 Ethanol. 
The boiler has a (2) 2" Element ports, with tri clamp and cover plate. The port can be used to install two electric elements with controller. You can also fire this still with a propane burner if you like.The bottom of the boiler is flat and recessed, and has a base diameter of 19 3/4". 
This still comes with the column, cooling plumbing kit and heating system.
This still also comes with:
1" drain valve.

26 gallon capacity

Boiler is 28" tall

Column is 41" tall

Carrying handles

2" filler port with tri clamp cap

4" column connection

Top quality construction with beautifully rounded curves

Built from heavy gauge 304 food grade stainless steel 

The boiler is polished to a mirror finish inside and out

Thermo port and commercial grade thermometer with a 3" face

This is a bubble plate column so no copper packing is needed
1 removable gatling gun (tube & shell) dephlegmator (pre-condenser) on top of the column
1 removable 2" diameter gatling gun (tube & shell) primary condenser
4 bubble plates in the column
4 removable 3" sight glasses
This column's modular construction allows you to remove plates or column sections for different flavor profiles
1 removable stainless parrot with drain valve for first shots
(2) 2" heating element ports
Internals of bubble plate column are copper 
Copper removes the nasty tasting sulfides from the alcohol vapor.
This still gives you the best of both worlds. It gives you the strength and durability of the stainless boiler and the taste improving qualities of a copper column. All of the equipment that you need to distill alcohol is included, except some tubing that you can buy at your local hardware store.
The 22 gauge copper stills that you see elsewhere on the internet are so thin that you can take your hands and crush them like a huge beer can. If you flip a 16 oz. 24 gauge copper still with your thumb and fore finger it will make a dent. If you punch this stainless milk can boiler with your fist, you might break your fist but there won't be a dent.
Push to Connect 
Cooling Kit with flow control for our 4" Reflux Moonshine Stills and Columns
This is a cooling kit for our 4" Stainless Plate Columns. Use the clear hose for your cold water line, and the red/orange hose for your hot water line. These cooling kits will work for hose barb connections that are 5/8" ID
16 feet of 1/2" Tubing (8 feet of clear tubing , and 8 feet of red/orange tubing)
(2) 1/2" Push to Connect Flow Tees
(1) 1/2" Push to Connect Union Tees
(1) 1/2" Push to Connect Union Y
(4) 1/2" Push to Connect 90° with Male NPT Pipe Fittings
(2) 1/2" Male Straight Pipe Fittings
This Controller works great for 20 to 35 gallon stills and still boilers as well as our beer keg stills up to 15.5 gallons (must have 2 element ports).  You will need to attach your own 60 amp 220 VAC dryer or welding plug to the main power cord so that you can plug the controller in.  If you are going to use this heating element controller with your own boiler your boiler will  need two  2" tri clamp ferrules, two  2" tri clamps and two 2" tri clamp gaskets.  This controller draws 50 amps @ 11,000 watts 220 VAC Single Phase.
This controller includes:
(2) Ultra Low Watt Density Heating Element
(1) Variable Temperature Control
(2) 30 Amp Twist Lock Male Plugs
(2) 30 Amp Twist Lock Female Plugs
(2) 30 Amp Double Pole Switches
(1) 40 Amp SSRs
(2) 30 Amp 2 Pole Breakers
(1) 30 Amp Panel Meter
(2) 12' cords from the Controller to the Element Boxes
(1) Lidded enclosure
(2) Green Power On Lights
This item comes with a 1 year warranty which covers manufacturing defects and leaks.
Built to last a Life Time!
Hand it down to future generations!
DETERMINING TRI CLAMP SIZE
Tri Clamp sizes are determined by the outer diameter of the pipe or tubing, not the outer diameter of the flange or Tri Clamp itself. The flange of a Tri Clamp fitting typically has about a ½" inch greater diameter than the outside diameter of the pipe. This can become especially confusing when the Tri Clamp fitting has no pipe attached to it, as is the case with adapters, For instance, a 1.5" Tri Clamp to 1/2" hose barb adapter is not 1.5" inches in any dimension, but the Tri Clamp end will fit any other 1.5" Tri Clamp fitting. 

If you have any doubts about what size Tri Clamp fittings your project needs, simply measure the outside diameter of the flange (dimension "B" below) and consult the chart below, or feel free to contact us .
 

Pipe Outer Diameter
A

Flange Outer Diameter
B

Pipe Inner Diameter
C

1"

1.98"

.87"

1.5"

1.98"

1.37"

2"

2.52"

1.87"

2.5"

3.05"

2.37"

3"

3.58"

2.87"

4"

4.68"

3.83"

6"

6.57"

5.78"

8"

8.57"

7.78"

10"

10.57"

9.69"

12"

12.57"

11.81"
These products may not be legal to operate in some areas. Affordable Distillery Equipment, LLC strongly discourages any unlawful use of these products and is not responsible for any damage or injury caused by the misuse or unlawful use of these products. Any person or entity that uses information or equipment provided by Affordable Distillery Equipment, LLC does so entirely at their own risk and accepts all liability concerning the use of the aforementioned equipment and information.
---
We Also Recommend