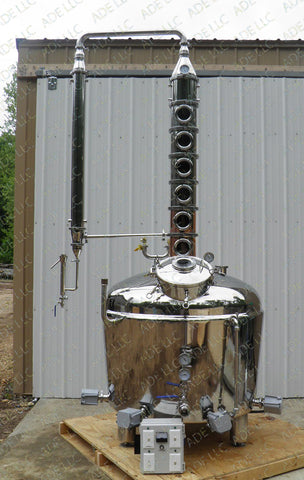 150 Gallon Jacketed Standard Series Still with 8" Bubble Plate Column
150 Gallon Jacketed Standard Series Still with 8"  Bubble Plate Column
This 150 gallon still is great for Bourbon, Whiskey, Brandy, Grappa, Rum and many others.  It will distill between 120 and 190 proof depending on which configuration that you decide upon.  The still in the picture above has 8 plates.  The pricing below is for the same unit with 4 plates in stainless.  If you would like more plates or if you would like a copper columns just email paul@distillery-equipment.com for a quote.
This Still has a beautiful 8" Diameter Stainless & Copper Bubble Plate Column with four 4" diameter sight glasses, Gatling Gun (Tube & Shell) Dephlagmator on top of the Column and a 4" Gatling Gun (Tube & Shell) Condenser on the side of the column. The column can be ran in Pot Still Mode to make Whiskey and Moonshine or it can be ran in reflux mode to make high proof light Whiskey or Rum.  The boiler has six 2" Tri Clamp ports, with Tri Clamps and Cover Plates. The port can be used to install electric elements with controller (please see the heating system option listed below).
  The best thing about this 150 gallon still is that it is jacketed.  Cooking oil or water can be ran in the jacket.  This gives you the ability to run grain in mashes and other mashes such as potato mashes, grappa mashes and fruit mashes with the solids left in, without the worry of scorching.  We have options below for agitators etc
150 Gallon Operating Capacity
170 Gallon Total Capacity
36 Gallon Jacket Operating Capacity
54 Gallon Total Capacity in the Jacket
2" Sanitary Butterfly Drain valve for Mash
8" tri clamp column connection
16" Diameter Manway
½" 5 psi Pressure Relief Valve on the jacket
½" 5 psi Pressure Relief Valves on the inner boiler
8" Diameter Stainless 4 plate Bubble Plate Column with all copper internal parts
The column is completely modular with Sanitary Tri Clamp Connections throughout
It is very simple easy and fast to disassemble the Column for Cleaning
Plates can be added or removed from the column to run different proofs
The Column can be Set up to Run as a Pot Still Head in a Matter of 5 to 10 Minutes
Top quality construction with beautifully rounded curves.
Built from heavy gauge 304 food grade stainless steel
Polished to a mirror finish inside and out.
Thermowell and Commercial grade thermometer with a 3" face.

This item comes with a 1 year warranty which covers manufacturing defects and leaks
Please see the options listed below:

Base Price for still boiler including drain valve hardware and safety devices $6,428.82
Base price for still boiler  including drain valve hardware and safety devices plus the 4 plate stainless bubble plate column: $11,915.82
Includes 6" x 48" condenser on condenser stand
Base price for still boiler  including drain valve hardware and safety devices plus the 4 plate copper bubble plate column: $13,077.09
Includes 6" x 48" condenser on condenser stand
Stainless 8" Gin Basket $948.02
1hp single speed 45 RPM 3 phase 240VAC $2,333.02
Variable speed WEG vfd drive for 1 hp agitator to be mounted on the wall.  This VFD is Rated NEMA 4x for hazardous environments can be washed down. Price is $570.91.  This VFD can be wired 3 phase or single phase input, to supply power to the 3 phase agitator
22,000 watt heating system with digital programmable heating control.  Control panel and element enclosures are NEMA4X.  Price = $4,882.45

Approx. 120 min heat up time with the 22,000 watt controller
33,000 watt heating system with digital programmable heating control.  Control panel and element enclosures are NEMA4X.  Price = $5,936.96

Approx. 90 min heat up time with the 33,000 watt controller
---
We Also Recommend