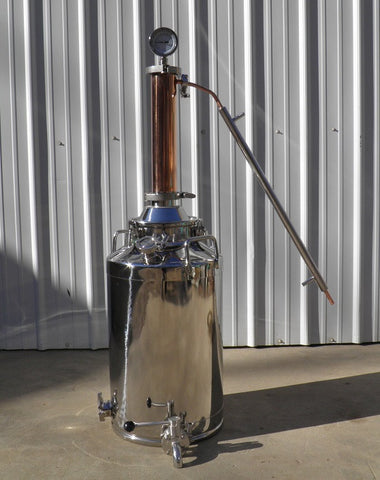 13 Gallon Moonshine Still with 3" Copper & Stainless Whiskey Column
This 13 gallon Moonshine Still comes with 3" copper and stainless column with built in leibig condenser, tri clamp pot for electric heating element adapter and tri clamp and cover plate. You can also fire it with a propane burner. The bottom of the boiler is flat and recessed, stands at 28" tall and has a base diameter of 13 3/4".
Comes with:
1" drain valve
carrying handles
1.5" filler neck with tri clamp cap
3" column connection
heavy duty 3" copper column with stainless liebig condenser
top quality construction with beautifully rounded curves
built from heavy gauge 304 food grade stainless steel
polished to a mirror finish inside and out
thermos port and commercial grade thermometer with a 3" face
This item comes with a 1 year warranty which covers manufacturer defects and leaks!
Disclaimer:
These products may not be legal to operate in some areas. Affordable Distillery Equipment, LLC strongly discourages any unlawful use of these products and is not responsible for any damage or injury caused by the misuse or unlawful use of these products. Any person or entity that uses information or equipment provided by Affordable Distillery Equipment, LLC does so entirely at their own risk and accepts all liability concerning the use of the aforementioned equipment and information.
 This still also comes with the book "Moonshine" by Matthew B. Rowley. Chapters include: Equipment; Ingredients; The Process; Fundamentals of Distilling; Operating a Pot Still; Whiskeys: Grain-Based Recipes; Now That You've Made It: Moonshine Based Recipes."
awesome
i received my still it was damaged due to the delivery driver throwing the box. i caught him on camera. talked to the super nice people at affordable fist equip super nice an friendly. they had replacement parts sent within days no questions asked. the equipment workes perfectly. they have helped a lot on my journey to b a distiller.
I am pleased
Still came and is beautiful. I looked it over really well and all welds are perfect. It was very well packed but somehow the thermometer glass got broke. I called them and no questions asked. Two days later my new one came in. I'd go on record saying a high quality product and extremely high quality company. I am pleased.
Big upgrade
This still and the heating unit (optional) are a great combo. I was very pleased at its consistent output. On just the first use, I was able to set a 20 minute timer for replacing my collection container, a 2 liter bottle, and I never had an overflow. Imagine, running your still and not having to be chained to it!
The heating unit took room temperature mash to production in about 20 minutes, far faster than my previous stove top still, and ran through 7 gallons of mash in about 2 hours at a comfy 11 amps of current. The condenser looked scary short compared to my old 20 foot copper line bucket condenser, but my domestic well supplied more than enough water flow. I'm so happy with my new toy that I'm ramping up production to make artisanal rum to age in oak. It's that easy and efficient.
Also, I should thank Zak who kindly reviewed my wiring connections before I soldered them. Great customer support!
13G - New
Good quality. No leaks. Everything fit perfectly.
Beautiful
Shipping was insanely fast and of that I have zero complaints but my beautiful new Still arrived with a dent in it and to be honest I thought about sending it back.
In reality -
It's just the first dent it's gonna get in it's long life, that in all likelihood, will continue for many years after I'm dead and buried. The construction is top notch, it came exactly as promised and in a timely fashion.
I wish they'd raise the price & ship em out with column packing, a pump and some hoses …
But nothing's perfect and it took minimal effort to hunt these things down. Haven't used it yet but it's exactly what I wanted and I'm sure it's gonna work great.
If you're thinking about a whiskey still don't put it off like I did for 5 years, order one of these right now. Today.
Thanks guys for a fine product,
I'm really gonna enjoy this thing.
Rick
---
We Also Recommend