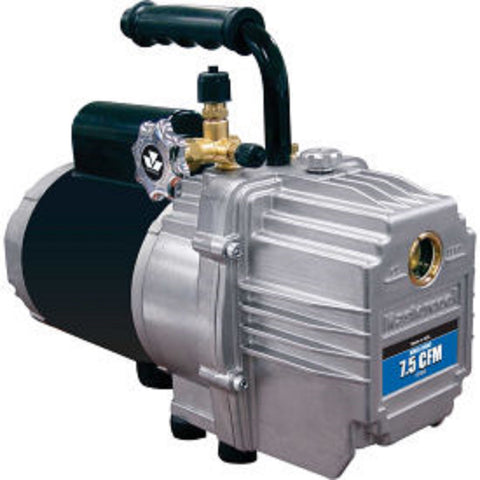 Vacuum Pump (110V/60 Cycle) 7.5 CFM Two Stage- Elite
Mastercool vacuum pumps are durable and time tested. They stand up to the most grueling conditions and will provide years of reliable service. Mastercool offers a complete selection of pumps. Regardless of your service requirements, Mastercool has a model for your applications. 
This model is the choice for medium sized and larger systems 5 lb and above capacity. The 1/2 horsepower motor makes cold condition start up quick and easy. This two stage pump features a manifold valve to isolate it from the system and three inlet ports: 1/4" FL, 3/8" FL and 1/2" ACME.
SPECIFICATIONS:
No. of Stages: 2
Free Air Displacement: 7.5 CFM
Ultimate Vacuum: 25 Microns
Pump Motor: 1/2 HP
Pump Speed: 1725 RPM
Electrical Specs: 110 V/60 Hz
Shipping Weight: 35.5 lbs (16 kg)
Dimensions in cm: 41 x 15.5 x 27.5 x 24
---
We Also Recommend