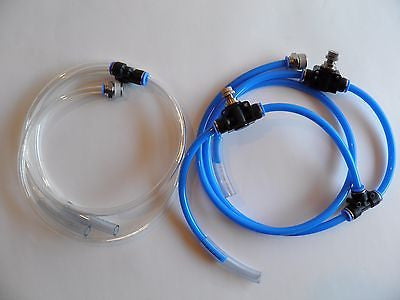 Push to Connect Cooling Plumbing Kit, 2" & 3" Stainless Reflux Moonshine Column
Push to Connect 
Cooling Kit with flow control for our 2" & 3" Stainless Reflux Moonshine Stills and Columns
This is a cooling kit for our 2" & 3" Stainless Reflux Columns. The moonshine still boiler and moonshine still column is not included. Use the blue hose for your cold water line, and the clear hose for your hot water line. These cooling kits will work for hose barb connections that are 1/2" ID
The tubing you will receive could be orange, blue or clear.
Glad I bought this
Glad I bought this. There is no way I could have put this together this nice with parts from my local Ace hardware.
Easy hookup
Suggested that the lower hook up portion be longer & supplied as a cut to fit option.
Excellent quality and precision
Like the rest of the products offered by AD, the plumbing kit consists of quality materials and components. It is well-assembled and works as promised. I want to take this opportunity to also thank that admin staff - they made my several transactions with the company super smooth and easy. The shipping to Maryland was fast. Very responsive and on-the-ball professional crew. Cheers!
Cooling kit - A++
The materials and workmanship are excellent. I was apprehensive initially due to the small size of the tubing, but it works perfectly! My 529GPH pump pushes plenty of cool water thru both the Leibig and the Delph.
A++++
My order arrived with a small issue but my email was responded to ASAP and problem was fixed! Great guys and a very quality product.
---
We Also Recommend