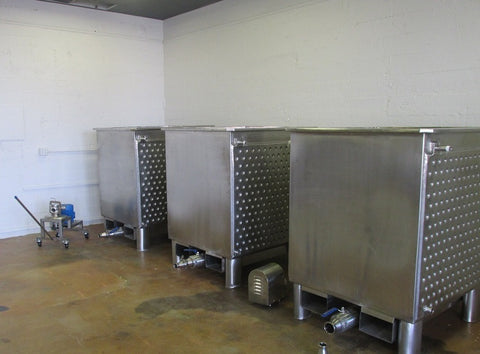 800 Gallon Pro Series Fermenter
Our 800 gallon Pro Series Fermenters are built to last a lifetime. These 800 gallon Traditional Square Fermenters work great for Whiskey, Bourbon and even Brandy Mashes. These Square 800 gallon Fermenters were designed to be moved by forklift. They are built using heavy gauge food grade 304ss stainless steel. All welds were done using sanitary, food grade welding methods. These 800 gallon Fermenters come standard with:
800 Gallon Operating Capacity
920 Gallon Actual Capacity
All Heavy Gauge 304ss Stainless Steel Construction
1 Thermowell on the side for a Thermometer to monitor the temperature of the mash
1/2" Female NPT 3" Face Thermometer
Sloped Bottom with the drain in the center so that all of the mash drains out
4" Drain in the center of the bottom
4" Drain Pipe with 90° Elbow
4" Stainless Steel Drain Valve
4"x2" Tri Clamp Stainless Steel Concentric Reducer with Tri-Clamps and Gaskets
Forklift able with Pockets for forks
4 Solid Legs
Heat and Alcohol Resistant Gaskets throughout
1 Year Warranty
Base Price: $7,887.38

Terms are:
1/3 Payment due when ordering equipment.
1/3 Payment due when equipment is completed.
1/3 Payment due plus shipping due when equipment is ready to ship.

Options:
Welded on Top with 24" Manway: $1,603.13
Cooling Jacket: $1,006.88 per side. Most people choose 2 sides, like the 3 Fermenters in the picture above. Each cooling jacket comes standard with:
(2) 1.5" Tri-Clamp Ferules with (2) 1.5" Tri Clamp x 3/4" NPT adapters for coolant input and output connections
(2) 1.5" Tri-Clamp Ferrule for thermocouple
1 Thermocouple for Thermometer
1 Thermocouple for the Temperature Probe
1 Commercial 3" face Thermometer
To order additional options, please call 417-778-6100.
DETERMINING TRI CLAMP SIZE
Tri Clamp sizes are determined by the outer diameter of the pipe or tubing, not the outer diameter of the flange or Tri Clamp itself. The flange of a Tri Clamp fitting typically has about a ½" inch greater diameter than the outside diameter of the pipe. This can become especially confusing when the Tri Clamp fitting has no pipe attached to it, as is the case with adapters, For instance, a 1.5" Tri Clamp to 1/2" hose barb adapter is not 1.5" inches in any dimension, but the Tri Clamp end will fit any other 1.5" Tri Clamp fitting. 

If you have any doubts about what size Tri Clamp fittings your project needs, simply measure the outside diameter of the flange (dimension "B" below) and consult the chart below, or feel free to contact us .
 

Pipe Outer Diameter
A

Flange Outer Diameter
B

Pipe Inner Diameter
C

1"

1.98"

.87"

1.5"

1.98"

1.37"

2"

2.52"

1.87"

2.5"

3.05"

2.37"

3"

3.58"

2.87"

4"

4.68"

3.83"

6"

6.57"

5.78"

8"

8.57"

7.78"

10"

10.57"

9.69"

12"

12.57"

11.81"
---
We Also Recommend