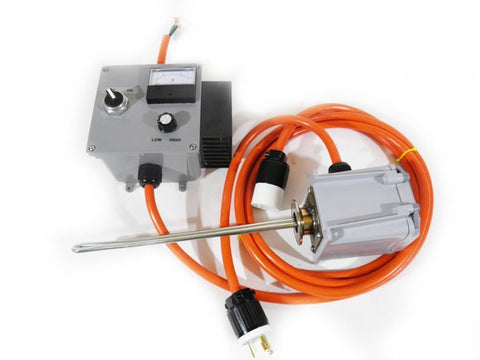 5500watt Moonshine Still Controller with Electric Heating Element Tri Clamp Box
This heating element and heating element controller works great for our 8 gallon and 13 gallon  stills and still boilers as well as our beer keg stills up to 15.5 gallons (must have element port). You will need to attach your own plug to the power cord and wire into a 30 AMP breaker. If you are going to use this heating element controller with your own boiler your boiler will need a 2" tri clamp ferrule and a 2" tri clamp and 2" silicone gasket. This controller draws 25 amps @ 5500 watts 220 VAC single phase. 
This controller includes:
30 Amp twist lock plug

30 Amp double pole switch

40 Amp SSR

30 amp panel meter

12' of cord from the controller to the element box
DETERMINING TRI CLAMP SIZE
Tri Clamp sizes are determined by the outer diameter of the pipe or tubing, not the outer diameter of the flange or Tri Clamp itself. The flange of a Tri Clamp fitting typically has about a ½" inch greater diameter than the outside diameter of the pipe. This can become especially confusing when the Tri Clamp fitting has no pipe attached to it, as is the case with adapters, For instance, a 1.5" Tri Clamp to 1/2" hose barb adapter is not 1.5" inches in any dimension, but the Tri Clamp end will fit any other 1.5" Tri Clamp fitting. 

If you have any doubts about what size Tri Clamp fittings your project needs, simply measure the outside diameter of the flange (dimension "B" below) and consult the chart below, or feel free to contact us .
 

Pipe Outer Diameter
A

Flange Outer Diameter
B

Pipe Inner Diameter
C

1"

1.98"

.87"

1.5"

1.98"

1.37"

2"

2.52"

1.87"

2.5"

3.05"

2.37"

3"

3.58"

2.87"

4"

4.68"

3.83"

6"

6.57"

5.78"

8"

8.57"

7.78"

10"

10.57"

9.69"

12"

12.57"

11.81"
Disclaimer: 
Any person or entity that uses information or equipment provided by Affordable Distillery Equipment, LLC does so entirely at their own risk and accepts all liability concerning the use of the aforementioned equipment and information.
Great quality, quick service, but needs instructions on how to control the temperature.
First and foremost, I love this unit. The only issue with it is trying to figure out how to dial in and control my temperature. It's a work in progress, yet could have saved me $$ in product with some basic instructions.
Better heating and indoor advantage
One of the challenges of distilling mash is the cooking of yeast and other sediments. You can clarify your mash or carefully siphon only the clearest portion, but the 5500 watt element is raised off the boiler floor, so unlike heating over propane, the bottom is the boiler isn't the hottest part. Sediments settle below it and remain un-roasted.
The element, power supply unit, and control unit are all extremely robust and look ready for decades of use.
In my first use, my unit drew 23 amps at maximum and heated the 8 gallons of mash from ambient temp to producing in 20 minutes, way faster than my previous stove-top still. The production run continued at 11 amps and finished in less than 2 hours. Of course I could have gone lower and slower, but sometimes you want to get the run done quickly, especially first runs that you intend to double-distill.
Combined in my case with the 13 gallon still with copper column, this heating unit made that first run a breeze. Output was steady and the Amp meter on the controlling unit made precise adjustments easy and repeatable.
Highly recommend, especially for use in climates where outdoor propane use is impractical for long parts of the year.
Hobbyist
We received our unit about five working days after ordering. It was well packed and we were impressed with the quality of assembly and plating. We're looking forward to making our first simple sugar mash run in the next few days. Thanks for some excellent purchasing advice from the staff. We're already pondering a larger brew / mashing vessel as our next upgrade purchase!
Much nicer
I ordered this to be my back up heating unit,,,, when I opened it I decided to put it into the 1st spot and make my other heating unit my back-up. Nice workmanship! As always,, Great customer service
---
We Also Recommend