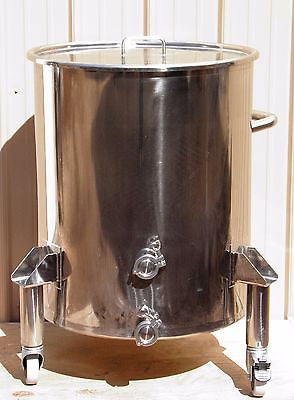 50 Gallon Receiving Tank, Transfer Barrel SS304
This 50 gallon receiving tank/transfer barrel, is great for moving your whiskey or vodka throughout your distillery.
The receiving tank comes with:
This receiving tank has a 50 gallon capacity.
DETERMINING TRI CLAMP SIZE
Tri Clamp sizes are determined by the outer diameter of the pipe or tubing, not the outer diameter of the flange or Tri Clamp itself. The flange of a Tri Clamp fitting typically has about a ½" inch greater diameter than the outside diameter of the pipe. This can become especially confusing when the Tri Clamp fitting has no pipe attached to it, as is the case with adapters, For instance, a 1.5" Tri Clamp to 1/2" hose barb adapter is not 1.5" inches in any dimension, but the Tri Clamp end will fit any other 1.5" Tri Clamp fitting. 

If you have any doubts about what size Tri Clamp fittings your project needs, simply measure the outside diameter of the flange (dimension "B" below) and consult the chart below, or feel free to contact us .
 

Pipe Outer Diameter
A

Flange Outer Diameter
B

Pipe Inner Diameter
C

1"

1.98"

.87"

1.5"

1.98"

1.37"

2"

2.52"

1.87"

2.5"

3.05"

2.37"

3"

3.58"

2.87"

4"

4.68"

3.83"

6"

6.57"

5.78"

8"

8.57"

7.78"

10"

10.57"

9.69"

12"

12.57"

11.81"
Perfect unit for moving about the distillery
Well built, timely delivery. Couldn't ask for much more in the process of receiving an using this receiving tank.
Nice Tank, really heavy duty
Is built well out of heavy duty SS. Lid weighs alot. just what I needed to move product and mix batches to ferment in. PERFECT!
---
We Also Recommend