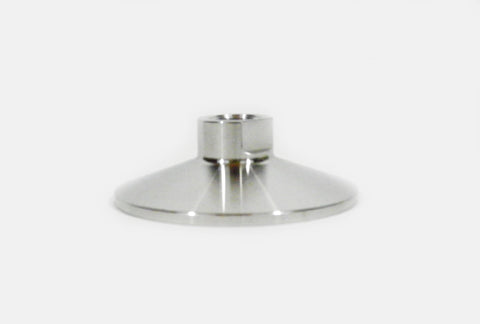 2" Tri Clamp to 1/4" Female NPT Adapter, 304 Stainless Steel NPT Adapter
This adapter is 2" Tri Clamp/Tri Clover compatible to a 1/4" Female NPT Fitting. These adapters give you the ability to add compression fittings, compressed air fittings, and temperature probes or stainless braided hoses that have a 1/4" Male NPT thread to any system that is Tri Clamp/Tri Clover compatible. 
This adapter is manufactured out of 304 food grade stainless steel, and meets all of today's sanitary standards.
DETERMINING TRI CLAMP SIZE
Tri Clamp sizes are determined by the outer diameter of the pipe or tubing, not the outer diameter of the flange or Tri Clamp itself. The flange of a Tri Clamp fitting typically has about a ½" inch greater diameter than the outside diameter of the pipe. This can become especially confusing when the Tri Clamp fitting has no pipe attached to it, as is the case with adapters, For instance, a 1.5" Tri Clamp to 1/2" hose barb adapter is not 1.5" inches in any dimension, but the Tri Clamp end will fit any other 1.5" Tri Clamp fitting. 

If you have any doubts about what size Tri Clamp fittings your project needs, simply measure the outside diameter of the flange (dimension "B" below) and consult the chart below, or feel free to contact us .
 

Pipe Outer Diameter
A

Flange Outer Diameter
B

Pipe Inner Diameter
C

1"

1.98"

.87"

1.5"

1.98"

1.37"

2"

2.52"

1.87"

2.5"

3.05"

2.37"

3"

3.58"

2.87"

4"

4.68"

3.83"

6"

6.57"

5.78"

8"

8.57"

7.78"

10"

10.57"

9.69"

12"

12.57"

11.81"
Great Product
Made as high quality. Shipping was fast.
Terrible customer service
I spent over 5.000.00 on equipment and still no working unit...6 months ago.....I wouldn't use these people...john cole
Best shop around
Perfect fit ,very solid . Best price you will find online and not very many cary the 1/4 npt.
---
We Also Recommend