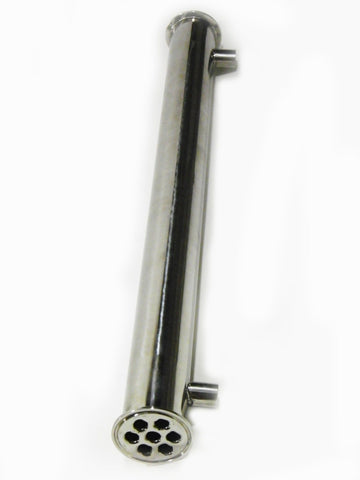 2" Stainless Steel Condenser for Moonshine Still Column
2" Stainless Steel Condenser
This condenser can be used with a Moonshine Still column.
The length of this condenser is 23.5"
The inside tubes are 1/2" OD and 3/8" ID
3/8" Threads 
Best Price
As the the name implies, "Affordable". Well built and right pricing compared to other websites even those from china.
Works great
Tested the condenser in a short distillation run, worked very well.
Looks OK
Just received this condenser for our still set up. I have not used it yet due to not having received our license yet. But it looks fit for purpose, welds are all right and the price was good.
Nice condenser, easily handled 3+kw of boiler heat with little tap water flow
Nice solid condenser (HEAVY!), easily knocked down 3+kw of boiler heat with very little tap water flow, product out was COLD, certainly has more capacity. I would give 5 stars but some of the weld/brazing on inner pipes was a bit too rough, not seen when assembled.
2 inch condenser
Made extremely well of high quality stainless steel.
---
We Also Recommend