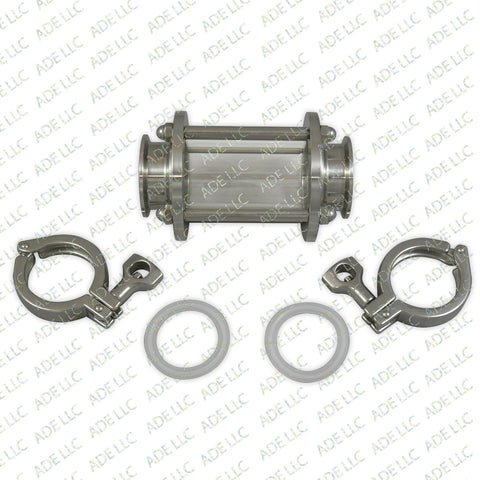 2" BOROSILICATE TRI CLAMP SIGHT GLASS WITH GASKETS AND TRI CLAMPS
2" Tri Clamp Sight Glass with Silicone Seals and Stainless Steel SS304 Borosilicate Glass Kit.
This kit comes with everything you need to connect the sight glass to your existing system.
Parts list for this kit are as follows:
Borosilicate glass is known for having very low coefficients of thermal expansion (~3 × 10−6 /°C at 20 °C), making them resistant to thermal shock, more so than any other common glass. This means that they handle heating, cooling and temperature changes much better than other types of glass. The widest part on the body is 5", and it is rated for a Maximum Pressure of 40 PSI.
The tri clamps are single hinge, and are used to connect two 2" tri clamp style connections. The tri clamps are rated for a maximum of 250 psi @ 250° F. They are made from 304 food grade Stainless Steel, and meet all of today's sanitary standards.
The gaskets included in this kit are peroxide cured silicone gaskets, which are great for long term sealing at high temperatures. They are alcohol resistant and will not leach into alcohol or change the flavor in any way.
DETERMINING TRI CLAMP SIZE
Tri Clamp sizes are determined by the outer diameter of the pipe or tubing, not the outer diameter of the flange or Tri Clamp itself. The flange of a Tri Clamp fitting typically has about a ½" inch greater diameter than the outside diameter of the pipe. This can become especially confusing when the Tri Clamp fitting has no pipe attached to it, as is the case with adapters, For instance, a 1.5" Tri Clamp to 1/2" hose barb adapter is not 1.5" inches in any dimension, but the Tri Clamp end will fit any other 1.5" Tri Clamp fitting. 

If you have any doubts about what size Tri Clamp fittings your project needs, simply measure the outside diameter of the flange (dimension "B" below) and consult the chart below, or feel free to contact us .
 

Pipe Outer Diameter
A

Flange Outer Diameter
B

Pipe Inner Diameter
C

1"

1.98"

.87"

1.5"

1.98"

1.37"

2"

2.52"

1.87"

2.5"

3.05"

2.37"

3"

3.58"

2.87"

4"

4.68"

3.83"

6"

6.57"

5.78"

8"

8.57"

7.78"

10"

10.57"

9.69"

12"

12.57"

11.81"
Helpful knowledgeable and quality craftmenship
Had a project. I needed help. Talked with Paul at Affordable. He was very knowledgeable and helpful. Fixed me up with what I needed. Very crafted work. Will use this company from now on. Thank you
Has helped a lot.
I really like being able to see the amount of reflux. It has enabled to easily run the until slightly detuned when I want to. The build quality is excellent. And the price was right.
HEAVY DUTY
Just another example of the high quality that comes from Affordable!! This sight glass is beautifully crafted and built to last!
Sight glass
Was exactly as expected and advertised, at a reasonable price. Very solid with a good finish. Will definitely order again.
Works like a champ
I'm not a distiller, but these units seal perfectly, and work great for hydrogen production.
---
We Also Recommend