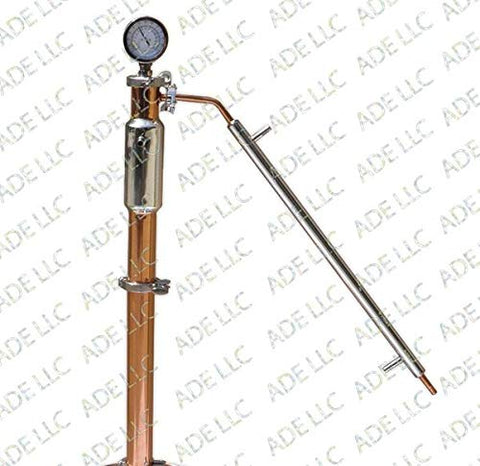 2" Copper and Stainless Reflux Column
This 2" diameter x 36" tall Copper and Stainless Reflux Column comes with a Dephlegmator (used to control proof), a 3/4"x25" liebig condenser and a commercial grade thermometer with a 3" face. This also comes with the 2" tri clamp and gasket for attaching the column to your still or Sanke type beer keg. This column is capable of distilling 130 to 180 proof. You can make Fuel Ethanol with this column in 1 run. All of our copper columns are Tig welded using Food Grade DHP copper welding rod. This means that the welds are as strong or stronger than the surrounding metal This DHP copper rod melts at around 1,700°F while the Solder that our competitors use melts at around 400°F. Solder joints are not nearly as strong as our welds, plus solder is messy, runs and gets all over the metal, while our welds are tight, clean and pretty. This copper pot still column has a 2" stainless tri clamp ferrule that will attach to a Sanke type beer keg or any of our 3 to 8 gallon boilers. Comes complete with operating instructions.
8 runs in
First off, What a piece of art! This is built to perfection with no corners cut at all. I added a glass tube just below the reflux condenser. And I connected my worm up to the end of this one. Just my preference.. I still will make my first run as fast as I can and will hold about 90% and keep the show going. What it's done is removed the middle run for me. I'll do one more run instead of 2 and have better results. Very impressive work of art. First thing someone says when they see it is,"That's real shit there, and looks very expensive". Week and a half since delivery and I'm 8 runs in it.
2"reflux head
Awesome quality. Came quickly. Heavy duty enough to use for self defense and not damage it. What was the best was it came with all seals , clamps, and copper packing. Very satisfied.
2" copper reflux still
High Quality and well built!
Excellent, well worth every penny.
Recieved in great condition and was fast delivering exactly as advertised highly recommend great co. to buy from
---
We Also Recommend