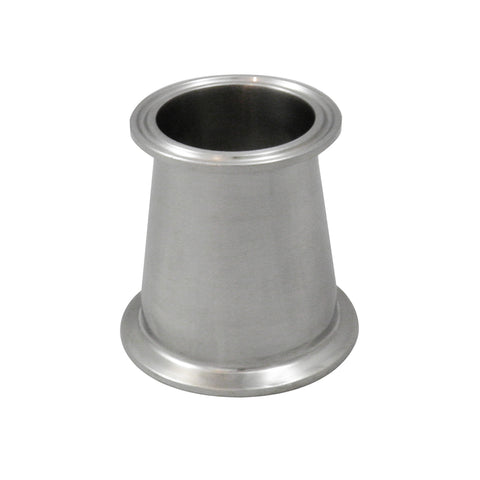 2.5" to 2" Tri Clamp, Tri Clover, Sanitary, Concentric Reducer, Stainless Steel 304
2.5" to 2" Tri Clamp Concentric Reducer, Stainless Steel 304
DETERMINING TRI CLAMP SIZE
Tri Clamp sizes are determined by the outer diameter of the pipe or tubing, not the outer diameter of the flange or Tri Clamp itself. The flange of a Tri Clamp fitting typically has about a ½" inch greater diameter than the outside diameter of the pipe. This can become especially confusing when the Tri Clamp fitting has no pipe attached to it, as is the case with adapters, For instance, a 1.5" Tri Clamp to 1/2" hose barb adapter is not 1.5" inches in any dimension, but the Tri Clamp end will fit any other 1.5" Tri Clamp fitting. 

If you have any doubts about what size Tri Clamp fittings your project needs, simply measure the outside diameter of the flange (dimension "B" below) and consult the chart below, or feel free to contact us .
 

Pipe Outer Diameter
A

Flange Outer Diameter
B

Pipe Inner Diameter
C

1"

1.98"

.87"

1.5"

1.98"

1.37"

2"

2.52"

1.87"

2.5"

3.05"

2.37"

3"

3.58"

2.87"

4"

4.68"

3.83"

6"

6.57"

5.78"

8"

8.57"

7.78"

10"

10.57"

9.69"

12"

12.57"

11.81"
The product is a good quality steel and fit my application the way I need it to. I did get charged for 2 day shipping but didn't receive it for 6 days. Overall I think I got my moneys worth though. Would recommend
Did the job
Fit perfect they only complaint I have is shipping is way to expensive costs more to ship flat rate than the part took forever to get
Very satisfied
This is a very high quality product at a great price. Shipping was a little expensive, but I got it in 2 days so it was worth it.
Just what I needed.
Quality product and fast shipping. Would recommend!
---
We Also Recommend