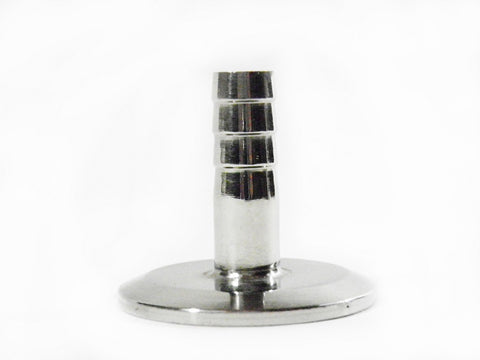 1.5" Tri Clamp to 1/2" Hose Barb Adapter
1.5" Tri clamp to 1/2" rubber hose barb adapter. Stainless steel SS304. This 1/2" barb end fits 1/2" ID hose. 
DETERMINING TRI CLAMP SIZE
Tri Clamp sizes are determined by the outer diameter of the pipe or tubing, not the outer diameter of the flange or Tri Clamp itself. The flange of a Tri Clamp fitting typically has about a ½" inch greater diameter than the outside diameter of the pipe. This can become especially confusing when the Tri Clamp fitting has no pipe attached to it, as is the case with adapters, For instance, a 1.5" Tri Clamp to 1/2" hose barb adapter is not 1.5" inches in any dimension, but the Tri Clamp end will fit any other 1.5" Tri Clamp fitting. 

If you have any doubts about what size Tri Clamp fittings your project needs, simply measure the outside diameter of the flange (dimension "B" below) and consult the chart below, or feel free to contact us .
 

Pipe Outer Diameter
A

Flange Outer Diameter
B

Pipe Inner Diameter
C

1"

1.98"

.87"

1.5"

1.98"

1.37"

2"

2.52"

1.87"

2.5"

3.05"

2.37"

3"

3.58"

2.87"

4"

4.68"

3.83"

6"

6.57"

5.78"

8"

8.57"

7.78"

10"

10.57"

9.69"

12"

12.57"

11.81"
Exceptional Service
The level of service was exceptional, from service, tracking to delivery. The unit ordered far meet my expectations. Thank You Affordable Distilling!!!!!!!
Very nice! solid little guys best price i've found
solid little guys! best price i've found . perfect fit for my pump housing.
Great Find!
I've ordered a couple of times from ADE and all of the products ordered (including this one) has been very affordable (compared with a large online parts supplier), available (others did not have the hose barb sizes), and stainless steel. We use these fittings on our flow bench to test our own parts so it is great that I found another supplier of these tri-clamp to hose barb fittings! Thanks for your quick deliveries! Although, I'm being questioned by my boss about my purchases from Affordable Distillery Equipment... Lol!
Great Equipment
As always , as advertised. Nice workmanship!
---
We Also Recommend